When puppies are weened off mama's milk, they go to a mush.
We use Honest Kitchen's dehydrated beef mix.
When puppies teeth are coming in nicely, we switch them to this same product (more or less), but in kibble form;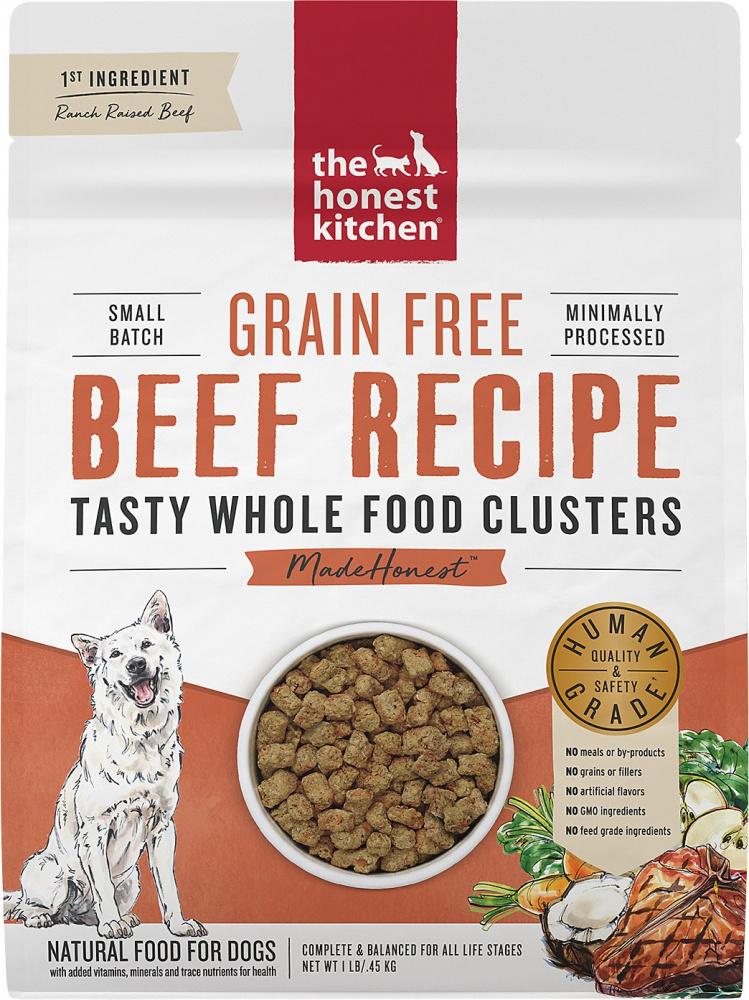 These two products are ALL life stages food.
We encourage you to stick with these foods at least for a while as your pup gets acclimated to its new home.
What about Grain Free? Doesn't that cause heart problems?
Here's OUR TAKE on grain free. It could be wrong.
#1) What grains do dogs eat in the wild?
#2) Limited studies have been done with regards to heart disease called canine dilated cardiomyopathy and grain-free diets.
That said, the research out there points to a disruption in the absorption of Taurine (an amino acid needed for muscle development).
Here comes the tricky part. How can a food that's MISSING something (grain) mess with Taurine?
The simple answer. It can't.
The studies of grain-free diets show that by being grain free, the foods instead showcase non-grains like; peas, lentils, other legumes, and/or potatoes in different forms (for instance, you may see "peas," "pea protein," or "potato flour" listed in the ingredients).
So the studies saying grain free foods cause dog heart problems, actually say, dog foods with peas, lentils, legumes and potatoes cause dog heart problems.
Here's where it gets even trickier.
Go read your dog food labels.
In fact, go try to find a single dog food without one of the offending peas, lentils, legumes, or potatoes in the ingredients.
WE BELIEVE, it's not missing grains that is giving dogs heart issues, but inferior and to some extent, the wrong ingredients.
For this reason, we're not so much worried about grains or no grains, but the actual ingredients themselves, quality of the ingredients, and the overall balance of nutrition you feed your little carnivores.
Another food we feed out to the older dogs is (this brand is also a few bucks cheaper);
When it comes to nutrition, we look for fewer ingredients and REAL ingredients.
We also steer away from chicken.
Our collie rescue has issues with chicken and Piccolo's poop isn't happy when she's eating chicken based kibble.
When we started feeding non-chicken based food, we noticed dramatic health improvements, so decided to switch everybody, not just the chicken sensitive dogs over.
The results have been good for us.
Advice
Your puppy is going to do most of its growing till up around 8 months.
They'll still grow as far along as up until 2 years, but the lion's share will be into the 8 month period, 8-12 months really, but after 8 months they won't be growing by leaps and bounds; after 8 months they're more filling out and catching up with themselves.
We recommend that you pay particular attention to nutrition during this 8 month period. Of course it's always important, but during these 8 months, everything biological about your dog is getting established.
We believe, the more you work with nutrition during this time, the less you have to work in the vet's office over the course of the pup's life.
Snacks
When it comes to snacks, either store bought or one's we make ourselves, we look for ones that use ingredients that we eat ourselves.
Not that we share our dog treats with the dogs, but if we could, that passes our test and generally tells us its a snack that will be more helpful than harmful.
Changing Diets
Especially important with puppies;
Whenever you switch foods, introduce the new food slowly.
Someone, somewhere, has probably posted specific math and ratios on this. The bottom line is go slow, over a period of time and pay attention to the pups poop.
If the poop is not holding up, cut back the new food a bit.